Come into Alyaa's universe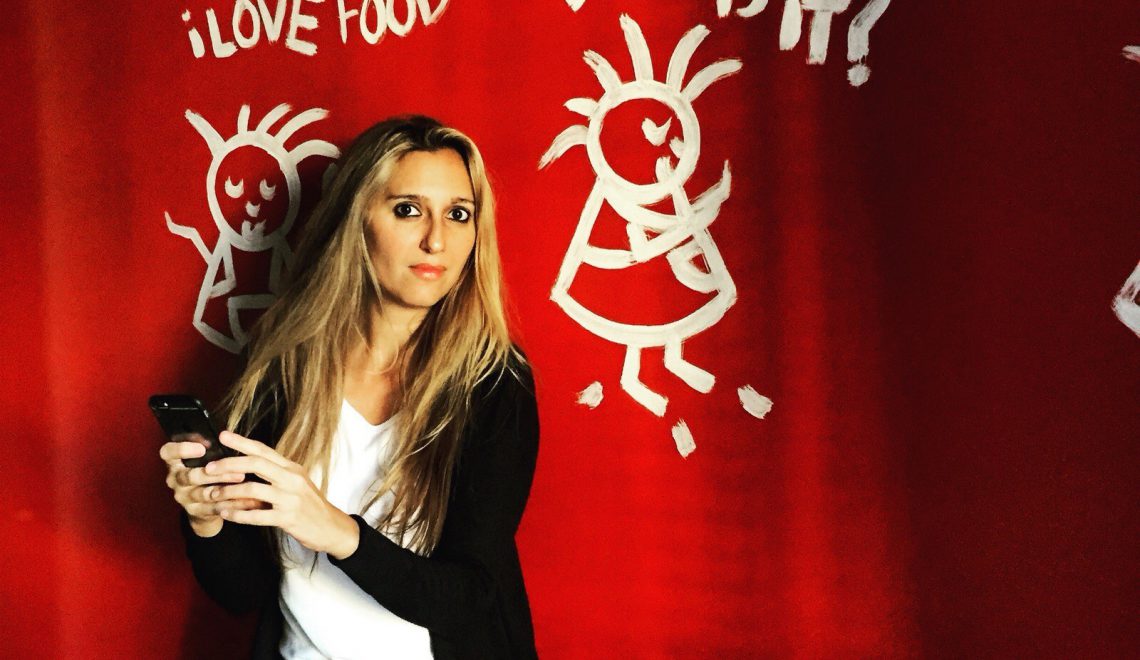 For those who do not know her yet, I am delighted and proud to introduce you my very long-term friend and artist Alyaa. Alyaa and I went to the same girl school in Geneva called Marie- Therese and are coming from an Arabic's culture. Actually she was in my sister's class, but she is part of this very special and little group of people that touch you straight by their authenticity and her kindness. I also remember her with her drawing notebook, drawing silhouettes of top models and clothes. I can testify that from the early beginning she has that artistic instinct that I definitely do not have and am still desperately trying to find by any means 🙂
She has kindly accepted our invitation for interview and I truly thank her for letting us enter her private sphere.
Age and place of birth: 42 and born in Geneva, Switzerland
Nationality: Swiss
Civil status: Engaged
Studies: Central Saint Martins in London and also the School of Theatres scenery in Geneva
Profession: Artist (my dream!)
Who is Alyaa? Alyaa has been living in Geneva most of her life but has also spent some time in London and in Cairo. Before dedicating herself entirely to her art, she worked for an interior decorator's office and also a publishing house in Geneva. Working in an office was really hard for her and definitely not something she would have accepted to do for her whole life. Despite it all, like any bad experience we can face, she learned a lot from it and tried to make the best of it. As we all know, it is sometimes very hard to try to find our way naturally and to know what we really want to do in life. So knowing what we definitely do not want to do is already a major step in itself. Beside painting, Alyaa loves listening to music (classical and soul music mainly), do long walks, and food. Her favorite is the Italian one. "Cooking for me is like art, it's a way of exploring new things but with the stomach", she said.
What were your biggest life event and challenges in life? Alyaa replied honestly and simply "To become who I want to be and free myself of cultural and social barriers". I am sure that lots of us know exactly what she means and how hard it is.
Painting:
When did you start painting? How did you discover it? When did you decide to become a professional painter? Alyaa started "drawing and painting when I was very little to escape." she told me. "It gave and still gives me a deep feeling of freedom. I learnt I guess at home and then at school, I can't remember exactly when" she added. She decided to do it professionally when she left University where she initially wanted to become a fashion designer. "I went to Cairo for a little while and started exploring a bit more the art of painting, I dived into it without even realizing it and I continued the journey" she said.
How do you define your style? What's your favorite theme? Where do you find the inspiration? Alyaa replied so naturally "I find inspiration from the moment I wake up till the moment I go to bed and sleep. Inspiration is everywhere. I don't define my style because I believe today after going through a lot of thinking and experience, to define my art is impossible because it would like defining me and I think that
I was, am and will be, and so is and will be for my art".
Without any surprise, this sensitive artist reveals that her favorite theme is "humanity".
Which technic do you use and why? She uses a lot acrylic ink, watercolor, wool oil and others. Her specialty and particularity is to work texture since the very beginning.
Do you use something else other than painting? "I use for certain paintings plastic wool sands crystals and other things" she said.
Main subjects and color used? You mainly draw shapes? What's your favorite topic? "My main subjects are people and cities I love using red and black and every color that falls into my hand. I love also to try new things or new ideas" Alyaa replied.
Are you trying to deliver a message and if yes which one? What are you trying to express? "I guess at first I try to express my own self, find my way through this life and then I observe and find that we go through nearly the same turmoil and then it becomes important to share and show how we are all in this together. Love is the message, life and all the aspects of it that are important to express" she said.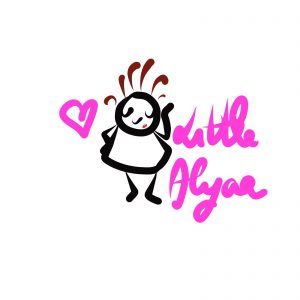 Little Alyaa: I know why I am using an avatar, but why did you create yours? "Little Alyaa is born because I needed to transform a painful and difficult moment in my life", she confided. "I needed to play down my world with a certain degree of self-mockery. Little Alyaa has then become my avat since 4 years now. I express myself every day through her and that makes me laugh"
Who are your main models and preferred artists? (Anonymous and painters) your favorite painting, made by yourself and by someone else? She is a fan of Soulages, Anselm Kiefer, Anish Kapoor , Rembrandt, Soutine, Vallotton and "so many others"
Describe your "atelier"? How do you paint? Where do you find inspiration? How and what do you feel when you paint and when a work is done? And how do you know it's done? "My atelier is my universe where I can cut myself from the world and all my ideas come to life around me. It is very small and full of materials books drawings images on the walls. I paint on a table and on easel. I love paintings because it is a moment of real communion with myself and the world. I feel free. I love working very early in the morning. I know it, when it's done it's more of a feeling." Alyaa replied
What are your future projects? Any exposition? Our artist has kindly opened up about her new projects. She is preparing an exhibition for my Little Alyaa and the Art Biennale in Venice 2019…yes, yes the Art Biennale!!!!
How is life amongst artists? Solidarity or jealousy? In your environment what's the hardest thing you have or had to face? Alyaa answered: "Every world is complicated and the Art world also. It depends on your own attitude and how you decide to be in the world. I know that I love my art and the people I meet and the people with whom I create a real relationship with. Humanity is the key, for the rest, I stay away from the tensions and egos of others". I guess this could apply to all of us, whatever the professional environment may be.
Art and children: how can we recognize the talent in children? How can we encourage young children to develop their artistic skills? Even if they don't have any but that they love painting? Do you think should dedicate more time to art in general? Little B (my daughter) enjoys drawing and painting a lot and I wanted her expert advise on the question. She kindly said "Art is discovering imagination and giving a sense of freedom. Imagination and freedom of expression are a necessity for the children to grow up with a feeling of openness and vision. It is important for children yes to play and feel that they experiment without the need of becoming the next Picasso."
You are originally from Egypt? Have you been influenced in any way by the Arab Spring and the revolution that happened in Egypt? How is the women situation over there? "Yes I am Egyptian and I was there during the revolution. Yes It inspired me and showed me the importance of men and women in our world. Not only in Egypt but everywhere in the world. The women there have a long way ahead of them, a lot of them fight and work hard to make themselves heard." she said.
What are the advices you would give to any young lady who wants to become a professional painter? Her advice is "love what you do and believe in yourself. Main thing is work lots of it everyday."
What is the special message you may want to convey?
Life is a mystery and to fear it or to hide from it is a shame so try and discover who you want to be without fear and shame.
More about you:
Biggest regrets? To not have had the courage to fight for myself when I was younger
Lessons learned? To overcome fears, social cultural life etc…
Dreams? To become a better person artist and live fully
Models in life: Frida Kahlo Gertrude Stein Agatha Christie Anaïs Nin and so many others
Favorite leitmotiv, or quote or expression? Life is full of surprises and tomorrow is another day
Advice to any woman or young lady in general: BE FREE
Thank you Alyaa for these wonderful moments with you !