Golden Globes 2017, my two favorites outfits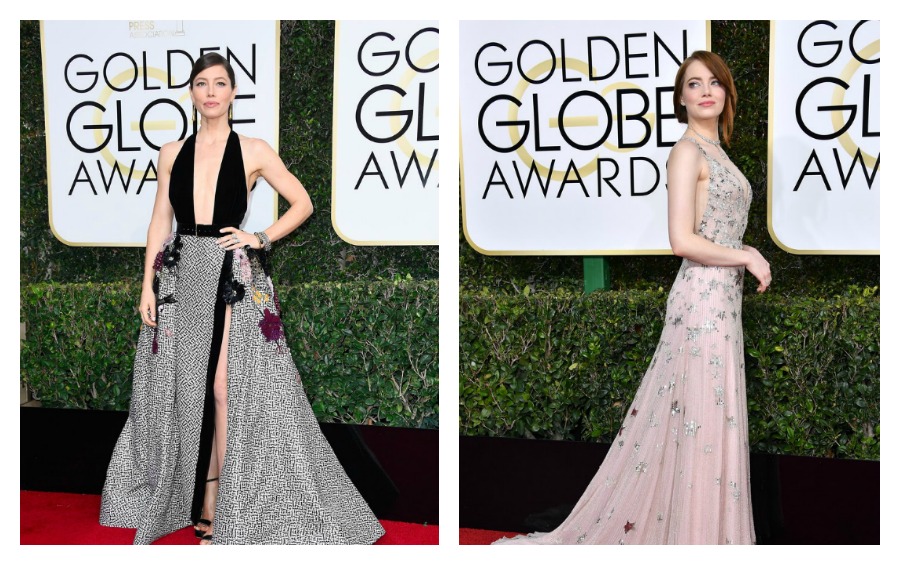 Without any hesitation, if you asked me what were my preferred outfits this year at the Golden Globes, it would be these two magnificent dresses.
The first one is the sparkling starry ensemble worn by Emma Stone and signed Valentino. She looks like a fairy in it! It's absolutely feminine and delicate like her but also very sexy at the same time thanks to the neckline. She kept the make up very light and the accessories to the minimum as she had only a diamond earring to accompany it.
The second one is the glamorous couture that Jessica Biel is perfectly wearing. She is simply stunning in this very plunging Elie Saab dress. Some fashion journalists commented that the attention was put on the lengthy starlet's legs, but honestly her "décolleté" is quite something! Nevertheless, I would have a little remark on the earrings…a simple pair of diamond would have been enough.
The last comment will come from my daughter! As usual she came looking around while I was working, so I asked for her opinion about the outfits. She simply answered: "Well I think that the brown hair lady (Jessica Biel) should wear this marvellous dress with stars (Emma Stone one). That would be perfect!"