Marietou and her brand MICI – Made in Cote d'Ivoire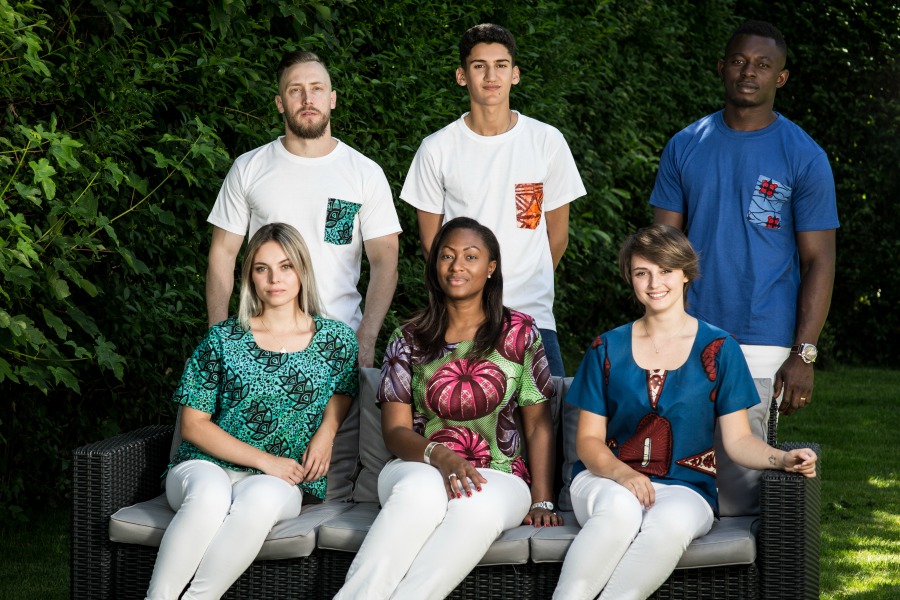 Today, let's go Africa and explore the continent with one of its best ambassador, Marietou (front row in the middle) and her rising fashion brand MICI.
Africa is in every mouth these days and has the wind in its sails. Lots of investments are being deployed in the continent. Even the so serious Financial Times has dedicated an article to it. Check this African textiles in the fashion industry (need an account to read it).
After this little break away from you, I am really excited and happy to come back with an exclusive interview of my very dear friend Marietou. The season of this article suits her well as Marietou is genuinely shinning with her smile and her personality. She is leading by her courage, her tenacity and her constant faith in the future no matter what happens or which obstacles might come along her way. She is full of love and generosity and you will feel it when reading her story.
Whenever I write an article I feel happy because I have this immense privilege to plunge into my guest's universe. And I hope you will feel it too. Marietou has kindly accepted to open the doors of her fashion workshop, full of African colors and vibes.
Age and place of birth: 33 years old, and born in Ivory Coast
Nationality. Swiss
Civil status: Fiancée
Studies: Bachelor in commercial sciences
Profession: Investment Management Assistant
Who is Marietou? Marietou has lived in Switzerland most of her life and has been working for 10 years in the financial industry. But beside her classical and sober office suit, she always loved fashion and believed in what she calls "fusion between Europe and Africa". She has this natural talent to mix fabrics, cultures and traditions but this is not only about fashion. For her, it is a way "to express yourself: your mood of the day, your origins, basically who you are deep inside" as she likes to say. Even if she grew up in Switzerland, she stays strongly connected to her African roots. She needs it and this is why she tries to travel to Ivory Coast whenever she can.
Mariétou is also a strong believer in the philosophy that says that "Being beautiful outside is not enough, you should be beautiful inside". So whenever she has time she practices Pilates and Thai Boxing… yes Thai Boxing you read well. She needs to unwind and likes speed but also to enjoy more quiet and peaceful activities.
What were your biggest life events and challenges in life? Marietou replies without any hesitation "Definitely when I launched MICI, I felt like I achieved something. MICI is like my baby, I have worked on it so long and so hard. Sometimes I wanted to stop, I was afraid, disappointed, felt like I can't, but now it's real, and MICI exists" she said.
What's the story behind MICI?
When did you start and what was the trigger also? "The trigger about MICI has been my friends. I used to make clothes for myself every summer in Abidjan. My friends always told me they loved the style and the African touch. Every year I had orders from them! So in summer 2013, I decided to do it more properly. As I know well my tailor, I asked him about collaborating, and he said yes and MICI began! It's came to me, but it was also like a found my way by working with my born country and promote the artisanal work in a fusion between Africa and Europe."
What do you create and for who? Where do you find inspiration? "The center of this brand is love, the love that I have for Africa" she replied, plunging us immediately into this continent. "The motor of MICI is showing on the spot light the beautiful African fabrics produced in Africa. It is really important for me using African fabrics and not tissues produced abroad. We also use different fabrics like "Indigo" or "Pagne Kita" all made in artisanal way in Africa."
She creates collections for women and men, inspired by traditional fabrics with modern and classy cut. Her main purpose is to show "This real fusion between Europe and Africa" by transforming "the heritage of authentic fabrics in contemporary outfits". People and life are the keys to her inspiration. She loves "watching and observing people. The way they move, the clothes they wear, the style they have, lots of details give me ideas."
What makes it so different and what are you trying to achieve? And how do you work? "MICI is mainly different by the diversity of fabrics. But it is also by the mix of elegance, tradition and modernity, I would like my creations to reflect that". Everything is done "in an artisanal way in a workshop in "Treichville" a neighborhood of Abidjan. I draw the models and the outfits are made there" she added. "What I'm trying to achieve is working in a sustainable way with artisans and fabrics. I want the brand to grow, always keeping that spirit"
What do you like the most by being a fashion designer? How do you deal with it and how do you manage two different jobs at the same time? "The creation part is my favorite one" she says "start with an idea, work on it in Abidjan and enjoy seeing a customer wearing it. Behind each piece there is a story and somebody's work.
I love this process where an idea becomes reality".
I have to admit that it is not easy every day to manage 2 different jobs. The key is passion; MICI is not a job in my eyes but a real passion."
It's a difficult environment and there is a lot of competition? Despite the growing 
competition, Marietou has chosen to "stay focused and authentic". In her opinion, "competition on African print fashion is a good thing; because that means that it is becoming more famous. At the end of the day, the customers will always make the right choice for themselves".
What is the future of MICI and what are the next steps or projects? "MICI's next step is to find distribution point" she says. For now, you can order online on www.mi-ci.ch or find creations at events or pop up store. All the events are announced on the website and social Medias so check the website otherwise we will keep you informed on the next dates.
What are the advices you would give to any women who wants to change carrier and/ or start a new one? "I will deeply encourage any women who wants to express herself, her talents, and her creativity. I think that it is also important to share ideas and ask advices from others us. I'm sure that around, you will meet the right people in the right time to do the first step. It's what happened to me. The most important is to listen to your heart and go ahead" she replied
More about you
Biggest regrets? No regrets, because we learn from every experience
Lessons learned? I learned to look at only positive side of things
Dreams? My dream is to live from my passion one day.
Models in life: celebrities and anonymous? My Mum, Oprah Winfrey, Chimamanda Ngozi, my boss (she's a woman) and many more inspiring women
Favorite leitmotiv, or quote or expression? (ex. never give up, etc….): There is always a solution!
Advice to any woman or young lady: Don't doubt about yourself, you can do it!
Where can we reach you?
On my website, rubric "contact"/ by email:info@mi-ci.ch
On social medias: MICI Facebook   or  mici_madeincotedivoire instagram
and listen to her exclusive interview on MICI Mode Africaine Discussion 2018